iXL Information for Families
At Twin Cities Academy, we use a website called iXL in our math classrooms and throughout the school.  iXL is a comprehensive learning program offering unlimited math practice across thousands of skills – all of which are aligned to the Minnesota State Standards.  We use iXL in Advisory every single week – either working on skills or entering the diagnostic arena and having them work on improving their overall diagnostic scores!
One of the best things about iXL is that our students can access it from home, so families have a chance to see their progress!
iXL is designed to help our students learn at their own pace.  The program is adaptive and will adjust based on a student's demonstrated understanding of the material.  All of the students' results will be saved, so that families can monitor their progress anytime by clicking on "Analytics" on the website.  For on-the-go practice, families can download iXL's free mobile apps for Apple, Android, or Kindle and sign in with their student's username and password.
How do families/guardians access iXL and their student's account?
Go to https://www.ixl.com/signin/twincities
Enter your student's username and password* and click "sign in".
*Your student's login information is the same as their school email address and school email password.  If you need help with your student's email account, please contact Jonathan Hughes at jhughes@twincitiesacademy.org
OR
Go to your student's Schoology account and click the iXL link at the top of their Advisory page or their math class page
Where can I find how my student is doing once I log into iXL?
Click on the "Analytics" tab at the top.  This will take you to a Student Summary page.
You will see your student's overall growth (for example see below):

The DIAGNOSTIC score you see is their math level, which corresponds to grade levels.  For example, the above score of 830 means that this student's math level is at the 8th grade and the student understands about 30% of the 8th grade material.
This page will outline for families/guardians the accomplishments their students have achieved, lay out what the student needs to focus on, and demonstrate ways in which you can support your student at home.
How can families/guardians support iXL at home?
When your student is working on skills at home, they are aiming to reach a SmartScore of 80 on each skill.  This shows that your student is proficient at that skill – and if they want an extra challenge, encourage them to aim for 100 – demonstrating their mastery of that skill!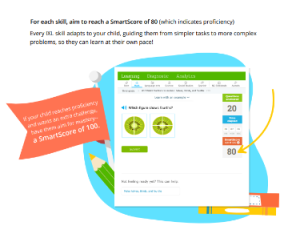 Website with information regarding supporting your student's iXL work at home!
How can I track my student's progress with iXL Analytics?
IXL – Analytics Guide for Parents
What are some other ways that I can support my student's progress on iXL?
Great question!  We encourage you to find a routine for your student at home around iXL work.  Routines are a great way to build iXL into a student's schedule!  We also encourage you to set goals with your student around their progress on iXL.  The goal(s) you set for your student can be around their growth on iXL (growth of their diagnostic or SmartScore for a skill), or it can be around the number of skills mastered by your student.  There are other possibilities, but these are a great place to start!
Any other questions about iXL or how to support your student?
Please connect with your student's math teacher!  All of their emails can be found on the teachers/staff page of our website.