Overview
On Saturday, August 8, 2020, the TCA School Board voted to start the 2020-2021 school year in Phase 2 of our 5 Phase Plan.
Phase 2 has students learning online but still allows TCA to bring in small groups of students who need extra help either with academics or mental health into the building during the week, while all other students are at home distance learning. TCA will be prioritizing these students and contacting families regarding this.
Please see below for more details on TCA's 2020-2021 Learning Model Plan.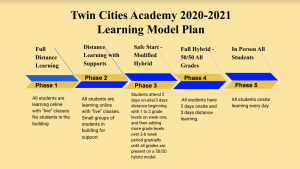 For even more detailed information, see below link: 
Twin Cities Academy 2020-2021 Reopening Plan
Distance Learning Plan Summary 
Changes for the 2020/2021 school year:
Students will be using Schoology as opposed to Google Classroom. Schoology will be accessible using TCA assigned emails.
TCA will provide each student with a Chromebook.
Block scheduling will be used.
Attendance During Distance Learning
Attendance will be taken every day per the Minnesota Department of Education. Students must be online with their teachers to be counted as present.
Late Work During Distance Learning
2020-2021 updates coming soon
Grading During Distance Learning
2020-2021 updates coming soon
Technology Access 
For the 2020-2021 school year, each TCA student will have a chromebook to use, provided by TCA. Please watch for communication from the school on how and when chromebooks can be checked out for the school year. If you need assistance with getting internet access at your home, please email Andrew Gorrell at agorrell@twincitiesacademy.org for assistance.
Mental Health Support
TCA is proud to have a full service mental health team during the regular school year, and will continue to offer support during this Distance Learning period. If a student or family member is in need of mental health support during this time, please contact Madison Sauer at msauer@twincitiesacademy.org or leave a message on our main office number 651-205-4797 and someone will be in touch with you within 24 hours. If you are in crisis  and need immediate assistance you can also text MN to 741741 or call 1-800-273-TALK (8255).
Free Food Delivery
For the 2020-2021 school year, only students who qualify for free or reduced will receive free school food per federal guidelines. Waivers will not be available this school year. For more details please contact Terri Ausen at tausen@twincitiesacademy.org or call the main phone number at 651-205-4797 and someone will return your call within 24 hours.
Free eBook/Audiobook Resources
Our TCA Librarian, Ms. Delesha, is periodically updating THIS  link so students can access free audiobooks/eBooks that do NOT require a credit card.
Additional Community Resources: 
2019-2020 Distance Learning Plan
Distance Learning Overall Plan – 3.27.20
Distance Learning Special Education/504 Plan – 3.27.20